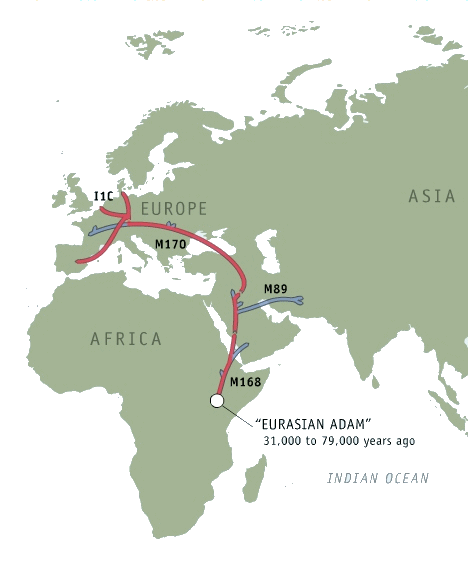 Fast Facts

Time of Emergence:
45,000 years ago
Place:
Northern Africa or the Middle East
Climate:
Middle East: Semiarid grass plains
Estimated Number of Homo sapiens:
Tens of thousands
Tools and Skills:
Stone, ivory, wood tools
The next male ancestor in your ancestral lineage is the man who gave rise to M89, a marker found in 90 to 95 percent of all non-Africans. This man was born around 45,000 years ago in northern Africa or the Middle East.
The first people to leave Africa likely followed a coastal route that eventually ended in Australia. Your ancestors followed the expanding grasslands and plentiful game to the Middle East and beyond, and were part of the second great wave of migration out of Africa.
Beginning about 40,000 years ago, the climate shifted once again and became colder and more arid. Drought hit Africa and the grasslands reverted to desert, and for the next 20,000 years, the Saharan Gateway was effectively closed. With the desert impassable, your ancestors had two options: remain in the Middle East, or move on. Retreat back to the home continent was not an option.
While many of the descendants of M89 remained in the Middle East, others continued to follow the great herds of buffalo, antelope, woolly mammoths, and other game through what is now modern-day Iran to the vast steppes of Central Asia.
These semi-arid grass-covered plains formed an ancient "superhighway" stretching from eastern France to Korea. Your ancestors, having migrated north out of Africa into the Middle East, then traveled both east and west along this Central Asian superhighway. A smaller group continued moving north from the Middle East to Anatolia and the Balkans, trading familiar grasslands for forests and high country.
---
---
---