How much does this site invade your privacy and put you in danger of Identity Theft?

Early in March of 2012, I received an e-mail from someone who had been 'Googling' her (dead) step-father's name and was directed to a page on this site which listed not only the person she was looking for but also her (living) mother and half-sister (but not her own). Rather than paraphrase her message, I have blanked-out the names and reprinted it here:
Hi KC
Can you tell me who you are please? Are you related to R---- or H---- who live in the Midlands?

My step-father was J----- Egginton, Born in Wolverhampton in 19-- and died in P---- in 20--.

I am VERY upset to see that you have listed my mother and sister (who are both still living) on this website (see below).

http://myweb.tiscali.co.uk/kcegginton/famtree/pedigree/-----

Who gave you permission to list this information on the internet? I know that they did not give their permission for this information to be used.
Anyone could use this information to commit identity fraud on my sister, as you have listed my mother's maiden name.

You have also listed my father B---- and his marriage to my mother M-----. I am not happy about this also, again because of identity fraud possibilities in my life.

Did you get this information from the LDS church website?
I have to say that this missive upset me somewhat - so that was two of us upset now. Is it all worth it, I ask myself?
Before I address the points raised, I have to agree that she was correct in claiming that her mother & sister had not given their explicit permission for me to list their names on my site, however, had she looked through my 'guest-book' then she would have seen that her sister had found my web-pages 18 months previously and had left an encouraging message. Furthermore, in a private exchange of e-mails following that message, her sister gave me more information for the site - I took that as tacit approval.
I do take her point though, I don't ask permission to put anyone's name on the site and I know that it can come as a bit of a shock to see your relatives or yourself listed somewhere when you're not expecting it. If I upset anyone else then let me apologise to you now - I mean you no harm - and in return I am freely sharing with you the results of years of research achieved at no small cost. There is also a very good chance that I have no idea how to contact you in order to ask for your permission. All I can do is remove your name if you wish me to do so and say sorry. By including names of living people, I am attempting to find new contacts who can perhaps add something I haven't yet discovered in exchange for finding something new about their forebears. What better way than to pick up on people 'Googling' their own names? Generally, this has worked well, in almost two decades of having an on-line tree and having received hundreds of contacts from all over the world, this was the first time I had received any negative feedback of any sort. So, yes, I am infringing your privacy but in the gentlist way I know how.
Are her concerns about security valid?
What should be taken into consideration is that I am not revealing confidential information gleaned from privileged sources - I am merely re-presenting data obtained from publicly available lists published by the government - something anyone can do using the FreeBMD website.
As an example, Stan, my neighbour grew up on the south side of Wolverhampton, in an area called Warstones. As a lad, he would kick a ball around with a neighbour's boy Mervyn who was about a year older and had moved into area with the rest of the King family from Buckinghamshire. Apparently, the boy grew up and became something in banking. Let's look for his 'personal' details:
Here's the blank FreeBMD search page,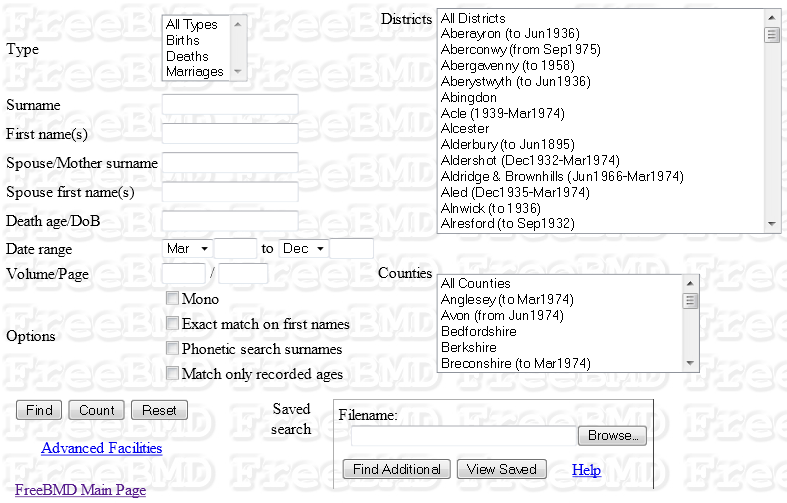 We just need to specify 'Type', 'Names', 'Date range' and 'Districts' - select 'Births' , enter 'King', 'Mervyn', '1948 -1948' (Stan was born in April '49) and select 'All Districts'. Click on 'Find' and we get two results: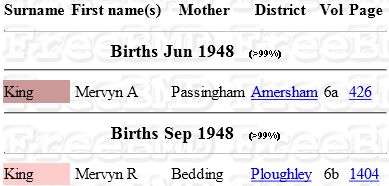 Not knowing Mervyn's middle name calls for a quick check in Google to find that Ploughley is in Oxfordshire and Amersham is in Bucks - so Mervyn's 'mother's maiden name' is 'Passingham' (probably) - easy peasy! Do you think he uses that for his security password with his bank? I sincerely hope not. Although 'Amersham' will be the 'Registration District', not the exact place of birth, we can enter this information on the government's website at the General Register Office and for less than £10 obtain a copy of his birth certificate and learn his exact date of birth, place of birth, father's occupation and informant's (usually a parent's) home address. At least they remind us that 'a certificate is not evidence of identity' (it makes you wonder: 'What is then?').
Let's go a bit further and look for a King-Passingham marriage: Revise the search and change the 'Type' to 'Marriages', widen the 'Date range' to say '1930 - 1960', remove 'Mervyn' and add 'Passingham' as Spouse, and we get:

So that's his dad! To find his bride's first name, click on the '301' to list all the marriage entries on the same page of the register: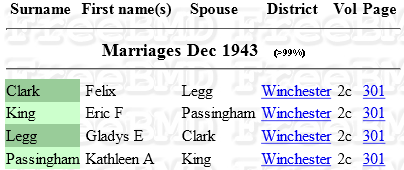 So, little Mervyn's mom and dad were Eric F King & Kathleen A Passingham, they were married in the last quarter of 1943 in the Winchester area.
Revising the search and changing 'Type' to 'Births' again, gives us all the 'King' children whose mothers' maiden name is 'Passingham':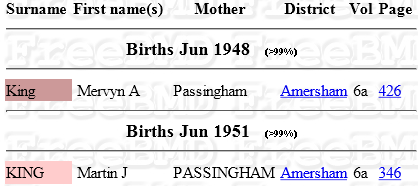 Stan doesn't remember playing with Martin.
We could now look for Mervyn's mom's birth record, revise the search again:
Leave 'Type' as 'Births', clear 'Date range' and 'Spouse/Mother' boxes completely and change 'Name' to 'Passingham', 'Kathleen A'

We were lucky here, only one record for a person born with that name between 1837 and 1983 and we learn that Mervyn's grandmother's maiden name was 'Barfoot' (probably). Where's S.Stoneham? Google will tell you that it's between Southampton and Winchester in Hampshire. The sequence of searches now repeats, we can look for a Passingham-Barfoot marriage (George W & Louisa in 1914 S.Stoneham maybe), their other offspring (Alpha J 1916, Ruth E 1920 & Pearl E 1923) and so on. Doing the same for 'Eric F King' requires a little more thinking about - there was one born every year between 1912 and 1924 but this one looks promising:
Within a matter of minutes, and for no cost, we have a fairly good picture of the family history of Sir Mervyn King - Governor of the Bank of England who was at the reins when it all went pear-shaped (I'm not blaming him of course - he's doing a Sterling job). I just hope that I don't get more than just an angry e-mail as a result of the above.
Once we get as far back as 1911, we can start to use paid-for resources to look at census returns but they're not of so much interest to criminal types. There are however, other free (and more importantly, publicly accessible) resources including recent electoral rolls which give addresses (eg. at www.192.com).
So does my site offer a helping hand to those who would like to steal your identity? I guess it does a little bit but not in a very efficient way. For living people, only names and their relationships to some other names are given here - there's not even a year nor place of birth. To identify you in this on-line tree requires the reader to know something about you and your background already. On the other hand, together, FreeBMD and the government pose a much greater threat to your security - maybe that's the price we pay for a free society.
It would be naive to believe that identity-fraudsters are unaware of the resources available to them or lack the intelligence to use them.
You can be sure that I would never use 'Meller' as the answer to a security question which requests my 'mother's maiden name' and I think that it's wise for people to be aware of just how easy it is to obtain such information and thereby protect themselves.
By-the-way, once I had explained all of the above to the lady I had upset, she forgave me - I hope you do too.